"The bandoneon is certainly a marvelous instrument. Tango is certainly a formidable style of music. What shall a student do with these two beauties in the absence of suitable arrangements of this music for this instrument? Providentially, Bernardo Fingas offers a lovely collection of tango versions exquisitely written for the bandoneon. I praise it with joy."
Rodolfo Mederos, Buenos Aires 10.19.2020
I recommend every bandoneon player this sheet music! I was very impressed. So fantastic arrangements from Bernardo Fingas. His arrangements are able to show the whole beauty of the instrument. The bandoneon shine bright and glory with this great arrangements. Many full chords, playing push and draw and often using the high register on the bass side….outstanding.
My compositions are influenced by tango, the music of Astor Piazzolla, J.S. Bach and Jazz. I earned solid background in counterpoint, classic harmony and composition with Diego Gardiner at the Conservatorio López Buchardo. With Julian Peralta I learned orchestration for tango ensembles. I visited the lessons of Juan Falú where I studied Argentine folklore. To complete my profile I worked over Jazz harmony, Kletzmer and German popular music of the 20's and 30's.

Individual composing
Film, television, theater, corporate image
Specially tailored to your project
Serious and popular music
Solo instrument, string quartet, chamber-and large ensembles
Unique, handmade, with professional musicians produced in renowned studios
Authentic, distinctive music which makes your project unique
Música original para obra teatral de Pacho O' Donnell "Leandro y Lisandro":
Año 2010. Cuarteto para bandoneón, vibráfono, trompeta y contrabajo.
Autor: Pacho O´Donnell. Director: Gerardo La Regina. Con Mario Alarcón y Juan Vitali. Escenógrafo: Daniel Pérez Acosta.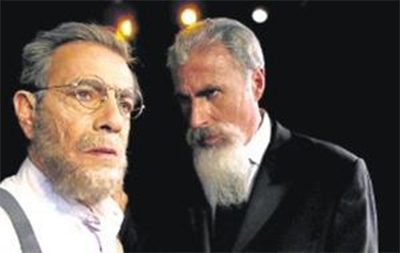 "When I heard the music of Astor Piazzolla in the 90s, living in Germany, I did not suspect that this experience could change my destiny. I traveled to Buenos Aires to study the bandoneón. And now it has been nearly 20 years since I have been living here, and my bandoneón and the tango are still very much a part of my path."
Bernd "Bernardo" Fingas is a German bandoneonist, arranger, composer based in Buenos Aires.
Bernardo earned a degree in Fine Arts from the "Staatliche Kunstakademie Düsseldorf". In 1998, he traveled to Buenos Aires for the first time to study the bandoneón and since 2003 has made the city his home. He studied under the Masters Julio Pane, Osvaldo Montes y Rodolfo Mederos and has taken classes of classical composition with Diego Gardiner. He was also a guest student of Juan Falú at the "Conservatorio Manuel de Falla".
Since 2008 Bernardo has toured seven times to Europe and one time to Brazil with different groups, and he has released four CDs.

His distinguished presentations in Buenos Aires include: Confitería Ideal, La Nacional, C.C. Torcuato Tasso, Casa del Tango, Botica del Ángel, Centro Cultural de la Cooperación and Parakultural Salon Canning and Bargoglio. He also performed at the Festival de Igualdad Cultural and the Festival FACAFF.
Bernardo wrote the music for the drama Lissandro y Leandro, by Pacho O'Donnell.
He accompanied singer Nico Favio in his programs.

And he accompanied actor Raul Rizzo in the play Por Una Cabeza.
In 2018 Bernardo received a national award from the National Institute for Music (INAMU), which he devoted to producing the album Flaneur, recorded at the renown ION studios with Hernan Reinaudo, Felipe Traine, Vicente Correa, and other musicians.

In 2019 Flaneur was presented at the Centro Cultural de la Cooperación and at the FACAFF3 Festival.

In 2020 he published a compilation of arrangements for solo bandoneón entitled Solos de Bandoneón with a preface by Rodolfo Mederos. He also recorded the pieces and subsequently released an EP.
Bernardo has received Special Mention from the National Arts Foundation (Fondo Nacional de las artes) in the Composition Contest, Category Tango, for his work Suite Almagro.
I developed a special teaching method that allows the students fast progress. This involves working from the inner logic of the bandonion. The student learns to play in a musical way from the beginning and gets important tools for effective practicing, relaxed playing and self-control.
Individual lessons via Skype, Zoom, etc.
Includes of teaching material
Languages: English, Deutsch, Español
I also offer:
Workshops for bandoneon players and instrumentalists interested in tango
Conducting of tango ensembles
Estudiar un instrumento supone muchísimos desafíos, y lo digo después de haber pasado yo mismo por varias experiencias y por dedicarme también a la enseñanza mientras sigo aprendiendo… Hace un tiempo pude cumplir unos de los sueños más grandes, abrazar el fuelle del bandoneon y comenzar otro camino más… Conocer a Bernardo y aprender de él fue encontrar a un maestro sensible, metódico y riguroso, pero también a un amigo que me ayudó con paciencia y cariño a descubrir los misterios de este instrumento tan bello… Sus clases, además de didácticas y de aportar un material de estudio muy claro y sistemático, sirven de apoyo al desarrollo personal permitiendo descubrir nuevas posibilidades en cada sesión… Más que recomendado!!